Less Known Facts about Gateway of India – If you are an Indian or even if you know just a bit about India. Still, You definitely must have come across the name "Gateway of India".
The two major reasons for the Popularity of the Gateway are the Huge number of Tourists who visit this Monument and another reason is the 26/11 Attack.
In this post, we will present Top 5+ Less Known Facts about this famous monument in India.
Did you know - The Total Expense for Building the Gateway of India was 21 Lakh INR ( 30k USD)
Hence to help you with a better understanding of the Famous Indian Monuments, we, the My Mumbai Life Team, have written this post. 
So hold your seat and be with us till the end of the post so you could get valuable information out of it.
In this post, we'll cover – 
Gateway of India

Introduction

How to Visit Gateway
Visit Timing
Best Month to Visit
How to Visit

Top 5+ Facts about the Gateway of India

Visitors

Elephanta caves

Ferry Ride

Employment

The barrier around the Gateway

Mumbai darshan

Conclusion
Gateway of India –
Introduction :
Holding the position of The Top 10 Monuments in India, The Gateway of India is now 95-Year-Old. The reason why this structure was built is to Celebrate the Visit of King George V and Queen Mary to Mumbai.
The structure of Gateway is said to as in Gujurati Style and Hybrid of Structure in Paris and the total time to build this structure is 4years.
Talking about the Total height, this structure is 83 Feet High and 48 Feet in diameter.
Visit Timing :
The best part about this Structure is that unlike any other Famous Monuments across the World, the Gateway doesn't have any Visiting Time. Anyone who wishes to visit here can visit during any time of the Day there are no restrictions regarding the Time.
Still, the best time to visit is the Evening time of around 5 Pm as it is the Time period which has the least rush. The rest of the Day is either Sunny or Crowded.
Best Month to Visit
After visiting this Structure over 50 Times our Suggestion would be that the Best Month or the Best Season to visit here is the Winter.
During the Summer, Temperature may reach upto 34° which is way too harsh to visit here and during the Monsoon if there is a high tide visitors are not allowed to Enter here and the Ferry Rides services get stopped.
So, the best Month to visit would be November – February.
How to Visit Gateway of India
By Train
The Nearest Railway station is the Chattrapati Shivaji Maharaj Terminus (C.S.M.T), once after getting down to this Station.
One just needs to Catch a Bus of Number 111 and he can reach his Destination in just 10Mins and by paying just 10 Cents (5rs).
Or the other popular way is the Taxi / Cab which costs around 1$ (70rs).
2. By Air
If one wishes to Directly Visit Gateway from the Airport then he just needs to get down at the Chattrapati Shivaji Internation Airport which is over 30kms from this Place.
Then he can take a Cab to visit this place.
Let's Have a look at,
Top 5 Less Known Facts about Gateway of India –
1) Visitors 
As of 2019, Mumbai alone is said to have a Whooping of 22.5 Million Population. And over 2-2.5K Visitors both (National and International) visit Gateway daily. All of this makes it one of the highest visited monuments in India.
96% of Foreign Tourists who visit this Monument stay in the Famous 5 Star Taj Mahal Palace owned by Tata, which itself is a famous tourist attraction.
2) Elephanta Caves 
Declared as a World Heritage Site by the UNESCO, Elephanta's origin is dated back to 2nd Century BC. It is one of the best places one should visit.
The reason these caves have a mention here is that out of the 2-2.5k Tourist and Locals who visit Gateway of India 600-700 Visitors also visit the Famous Elephanta Caves.
3) Boat Rides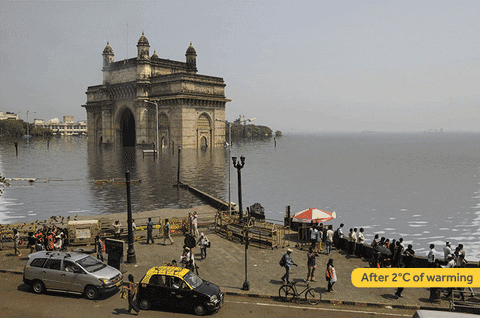 The biggest Highlight about the Gateway is its location. It is surrounded by the Arabian Sea, which itself is an unavoidable attraction. 
As the Gateway doesn't charge it's visitors, So to take advantage of the Arabian Sea and the Mass Tourist. And to convert those tourists into Business opportunities, the Government allows Ferry Rides. 
30 Minute worth ride of these Famous Ferries cost not more than 1.2$ (100rs) 
4) Employment 
The fact that go un-noticed every single time is the Employment that Gateway offers. It observed that Gateway alone gives employment opportunities for over 500 Peoples.
Sounds unbelievable, right? 
Over 50-60 photographers who give instant photo prints rely on Gateway Tourist for Jobs. 
Gateway alone Employees 100's of peoples who provide the Ferry Rides.
An estimate of 58 Tour Guides works in or around the Gateway, who arrange Mumbai Darshan tours and tours to the World Heritage Elephanta Caves.
5) Blocking after the Terror Attacks 
All those who visited Gateway before the 26/11 Terror attack had occurred in Mumbai very well know that, there was not even a single barrier around this Monument. Only after the shooting happened, to safeguard the Monument as well as the Tourists. Now, there are over 50 police officials assigned all around the Gateway.
Now there are barriers all over, and anyone who wishes to enter must pass through the Security Scanner. And for better security, even Bags are checked manually by the Police officials, thereby safeguarding the Public.
Drones are restricted strictly in the Gateway premises but Cameras and other equipment are allowed.
6) Mumbai Darshan (Visit)
Visting Mumbai, and not taking a Mumbai Darshan Bus it nothing more than Cruelty. The cost of Mumbai Darshan ranges from around 500-2500rs, and the price depends on the Luxury of the Bus. 
The Bus takes you through Major Destinations in Mumbai which mainly include Hanging Garden, Nehru Science Center, Bandstand, and the Siddhivinayak Temple.
It is easily affordable for anyone who wishes to visit Mumbai as a whole at a very cheap rate.
The reason why Mumbai Darshan is included in this list is that this Mumbai Darshan bus starts from the Gateway of India itself.
Conclusion – 
This where all the exclusive Less Known Facts about Gateway of India which very fewer peoples knew. You won't find any of the Facts mentioned here, around the Internet.
Many more facts and Tips for everyone before visiting the Financial Capital of India will be there in upcoming posts.
In our Previous Articles, regarding Top 5 Everything about Mumbai, we wrote about 
Busiest Railway Station in Mumbai Click here to read it. 
Top 5+ Famous Youtubers from Mumbai Click here to read it.
Tallest Buildings in Mumbai – Mumbai's Skyscrapers Click here to read.
We've also written Everything about Aarey Forest Mumbai and why it is Dying Click Here to read it. 
Thank you for reading this article.